Internet Banking Enrollment
Internet Banking Enrollment
Our Internet Banking has changed and we hope you will enjoy the new services available to you once you have successfully enrolled in our NEW Internet Banking. All users MUST enroll the first time they log into the new system even if you used our old Internet Banking. Don't worry all of your accounts and Bill Pay payees will have come over to your Internet Banking account on the new site.  If at any point in time you have issues login into the new Internet Banking system please call the Internet Banking Department at 1-888-554-5499 for assistance or your local Heritage Bank office.
You will notice that the Login link on our website has changed a little. Click on the Retail Internet Banking Login on our website.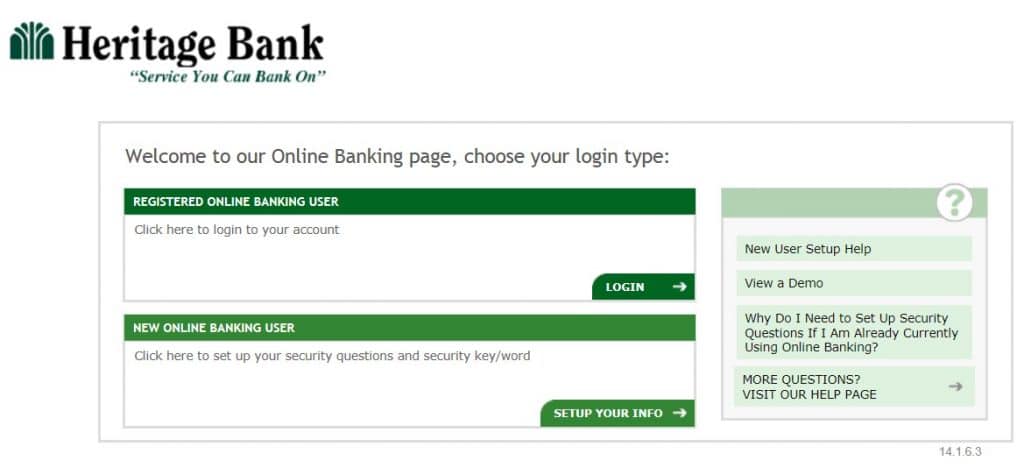 This page should come up. All users MUST start by clicking on the SETUP YOUR INFO button under NEW ONLINE BANKING USER. This only needs to be done the first time you log into Internet Banking, after enrolling the first time you will use the LOGIN button under REGISTERED ONLINE BANKING USER. If you encounter issues enrolling for the first time, in the page on the right side of the screen customers can View a Demo of enrolling in our Internet Banking.
When you click on SETUP YOUR INFO, you will come to the Welcome screen. From here Click on LET'S GET STARTED.
Please read the Terms and Conditions before checking the box agreeing to the above terms and conditions and click on NEXT.
You should now be at the first step of the enrollment process as seen from the top of the image below. Your ID is the same LOGIN ID as our old Internet Banking system.
Your Password is the last 4 digits of your social security number
Enter the Security Code. This code is generated randomly each time the user logs into the site and can be given audible for the visually impaired.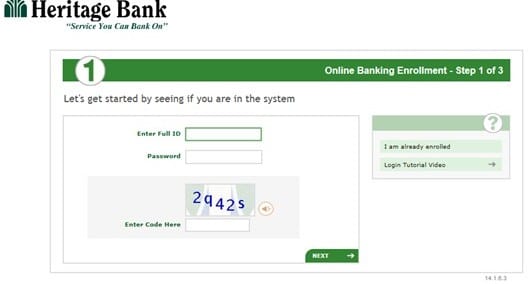 Click NEXT, you will now have to select and answer 3 new security questions for your Internet Banking account. These questions will be used to log into Internet and Mobile banking, and can be used in case you forget your password in the future.
Click NEXT; you will now have to enter a valid email address, a new User ID (optional), and a new password. Please note that the password must be 6 – 12 characters in length. Must contain: letters (upper-case or lower-case), numbers, and symbols. It cannot contain the following characters: @ , / |
Click FINISHED.
Welcome to our NEW Internet Banking.